Hi. This is a QoL update before the Halloween update. Patchnotes will be minimal, and we fixed a ton of smaller bugs not listed here.
Serenity Changes
Serenity is no longer cosplaying as a pirate in chat. (DisplayName in chat was previously Dreadstump. )
Minions are now statis immune, and fire slightly faster.
Serenity spawns walls closing the boss room off 3.5 seconds after the first fight phase/ added cursed immunity.
Reduced Super Hot Lava. (Was already on live, but not noted in a patchnote yet.)
Serenity final phase is no longer stunnable.
Added a few more minions.
Other Changes
Slightly stagger Granith Bombs to reduce stacked shots.
Fix speediest sprout craft. Now uses air rune instead of ele sor as intended.
Fix Surge/Power node not having an icon.
Fixed kantos & onrane displaying with incorrect values or "0" in the play and character select menus. Now shows all currencies properly.
Fix philosopher stones text. Was about anniversary eons.
Valia Beams from Ascended Rift now automatically de-activate when Valia is dead. (This is already live.)
Never Before Seen & Drannol's Fury are no longer shineable. (They are shop items and aren't supposed to be.)
Added Golden Loot Frog. (Thanks BQ.)
Updated Backend Logging & moved various command permissions around.
Home Depot Changes
Price reductions for a large amount of Gold & Kanto tiles/objects. (Up to 50% in some cases.)
A few price reductions for Fame tiles & objects. Mostly the Purple & Gothic tiles/objects.
Added Purple Stone Dark (F), Stone Square (F), TT Ground (F), TT Tile (F), Hallow Floor (F).
Added Grey Quad as an alternative to Red & Blue.
Added Guild Green Rug for Fame & Kantos.
Added Japanese Rock, Japanese Rock Dark, Japanese Stone Path & Japanese Rock Blue for Gold & Kantos.

Market Changes
Link to clip explaining the first of the UI updates to the market.
Community Suggestions
1) Color Coded Vaults - Shmitty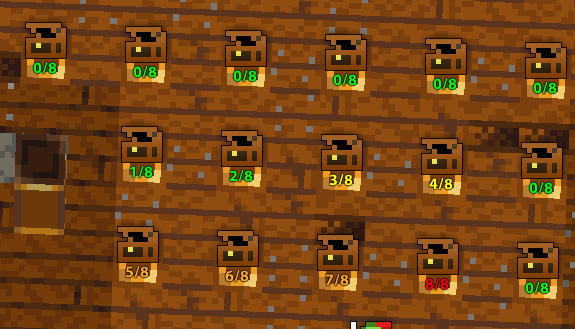 The suggestion was to implement color coding corresponding to how full a vault chest is.
This is now the default view and display for vault chests. Users who prefer the plain white may toggle off do so via the Graphics Option Menu.
2) Player On Top - DankGuy
By default your character will always be the "top sprite".
3) More Vault Chests
Added more Giftchests to vault.