Hi all. This is the February Patch, and Valentine's Update. This is a pretty large update, with the release of Summer's very first dungeon, and a fully-fledged Valentines Event.
The Event will last until the 28th of February, giving you loads of time to earn the skins. The prizes won't be claimable until the 9th (Actually Valentines Day). There will be one skin per class. The Flowers are earnable, and the shard is fully functioning.
A hearty congratulations to Deviser & Avatar who have been promoted to full Moderator status.
Note: The other patch in February will involve some changes to Ultra Titan based on player feedback.

Update
General
The Winter look has been removed from the nexus.
Remove a few border-line rude but not exclusively offensive words from the chat filter.
Removed Pumpkins & Scarecrows from the Nexus & Market.
Guild Rewards are now enabled. (MVPs may claim their Gold Valor Boost.)
Added Flaming Heart Pet.
The Abomination
A new dungeon by Summer, dropping from The Horrific, featuring a new boss with the same name as the dungeon. The dungeon features a fairly difficult fight, with a new legendary sword drop, alongside a new legendary banner from The Horrific event. Normal drops consist of potions, vials, and caches.
World Teleporters
As originally teased when we redesigned the Nexus, these are finally here. These are tiles that when stepped on take you to another world. For our nexus, they act as doors. All doors have been labeled.
Items
Age of the Dragons charm cooldown from 3.5s to 2.5s.
Vizkels Nerf:
- 15 Dex > 10 Dex
- 15% Crit Chance > 7.5% Crit Chance
Tyrant Helm should be working as intended. The buff was very buggy before and wouldn't always function.
Divers Sunken Boot sprite fixed.
Skull of Ravagers sprite changed.
Fixed Eye of the Kraken not working with Bravery.
Fixed Eleventh Commandment not dropping.
Tooltip/Item misspelling Fixes.
Fixed all crafted/event LGs from being shined.
Fixed black scroll not giving protection on use.
Fixed Bacon Cape, Moon Crescent Halberd LG Effects.
Fixed Tome of Ancient Healing, Gargoyle Stoneplate, Protector of Grandeur, and Burning Tome.
Fixed LoD ess crafts being shineable.
Fixed + Reworked Catatonia wismod calculations.
Adjusted Jester's Tattered Cloth cooldown (10 seconds > 6 seconds).
Announcements
The in-game announcement system is back. This is similar to other auto announcers from popular games. There are different messages depending on rank, new player vs experienced player, etc.
Notes
Four different tiers/channels in total.
An announcement will send every ten minutes (plus random offset) for every channel.


Tweaked the color for Public Challenge in game notification.
Added "...in the nexus!" to the end the of the public challenge announcement text.
Aspects
The Aspect of Baast is now functioning as intended.
The Aspect of Aldragine is now functioning as intended.
The Aspect of the Fallen is now functioning as intended.
The Aspect of the Gargoyle is now functioning as intended.
Housing
Plot upgrades now cost 75 each from the store.
Plot Upgrade may be purchased in a tradeable 5 pack from the Kanto Shop.
Valentines Event
With Valentine's day approaching real soon, an event has begun for a chance to earn a HUGE variety of free skins and reskins. Similar to our last Halloween event, your task is fill up your Bouquet of flowers with various Valentine's themed flowers in order to turn them in for skins. Not only is this event filled with earning free skins, we have also added a reskin shard for Shard of the Grand Challenge that is filled with reskins' of their original counterparts.
With all of this in mind, the event will be lasting for approximately three weeks, from the 7th - 28th February. This should give you ample amount of time to earn all the skins you desire. (You can fill up as many bouquets prior to the 9th as you would like. Consume a flower without a bouquet to get a bouquet.)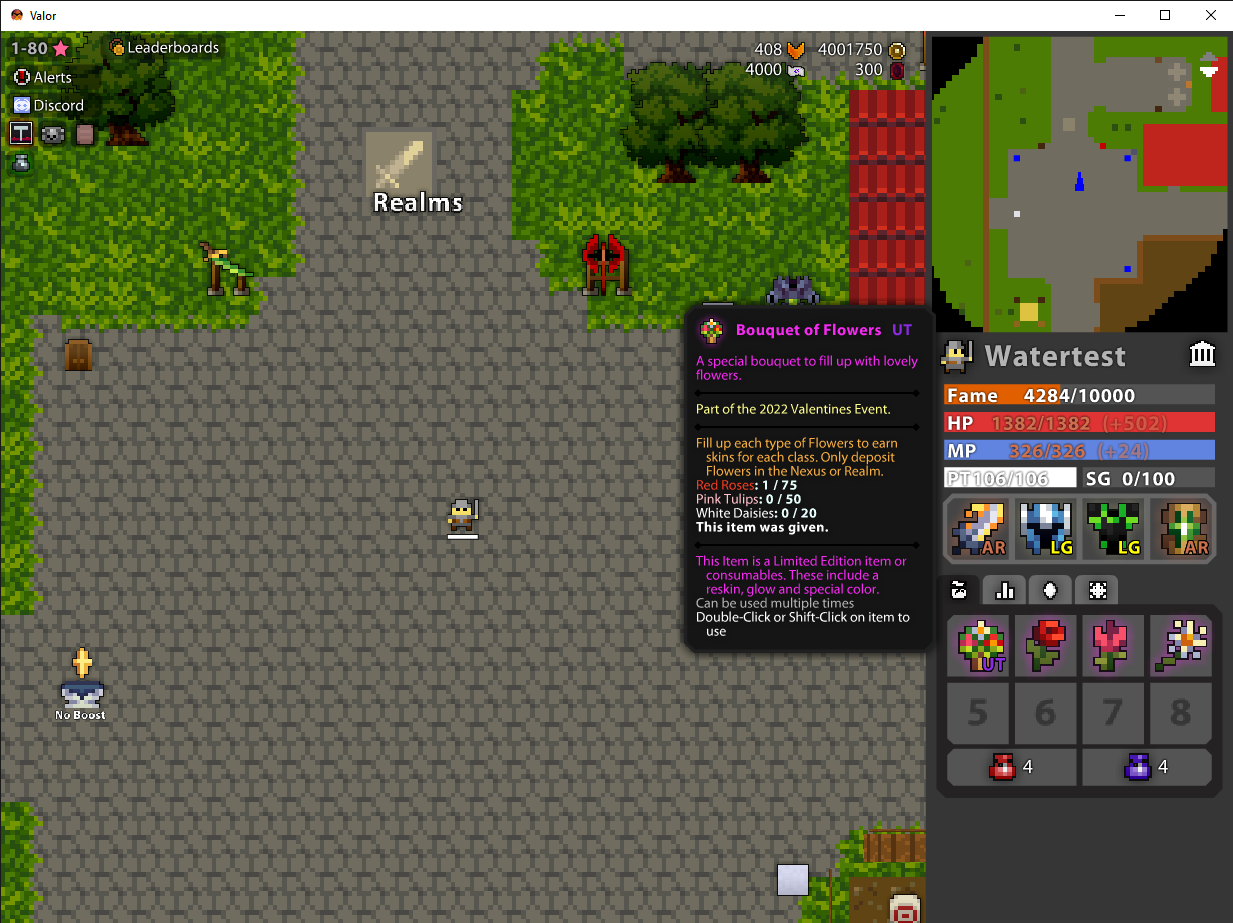 Flower Collecting and Bouquet
You will be unable to redeem the Bouquet of Flowers until the 9th, but may fill them up now. We're still preparing a few skins for your enjoyment. :) There will be a skin for each class that will be populated in the "Contains" on the 9th.
To get a Bouquet of Flowers,  consume a flower and you will get one. After that, always consume flowers in the Realm or Nexus with a bouquet in your inventory.
We have added three tiers of flowers for which you can collect. These are as follows:
Red Roses - Most Common - Drops mainly from Godland Gods.
Contains: "Moon Heart Wizard Skin", "Sweet Couple Priest Skin ", "Sir Heart Knight Skin", "Violetta Assassin Skin", "Bride Sorcerer Skin", "Anna the Fighter Templar Skin", "Chad Drakzix Skin", "Bear ILY Gambler Skin", "Jinx Spirithunter Skin"
Pink Tulips - Rare - Drops whenever you get a white bag. A Pink Tulip shall be sent to your gift chest.
Contains: "Japanese Girl Rogue Skin", "Valentine the Prophet Necromancer Skin", "Young Lilith Trickster Skin", "Sunset Ninja Skin", "Doomer Samurai Skin", "Hearth Fan Blademaster Skin", "Ms Fortune Pirate Skin", "Sharp Clan Mechanic Skin"
White Daises - Rarest - Drops from Realm Events, such as Larry and Yazanahar. They also drop from all Oryx's.
Contains:  "Cupid Archer Skin", "Gentleman Warrior Skin", "Sir Gilded Heart Paladin Skin", "Kira Huntress Skin", "Vivi Mystic Skin", "Lotus Child Shrinemaiden Skin"
Skin Previews
We have added a link to preview the skins. They have the names of each skin and a little clip of how it looks.
https://gyazo.com/collections/2e31b23973d1311bcef842d653046139
Shard of the Grand Challenge Reskin
Added Shard of the Grand Challenge Reskin
Replaced all the drop locations, Ebox, and Oryx Crate of the original shard with "Shard of the Graceless Courtship".
Added Forge Recipe's
Added Reskins for the following items: Flaming Horizons Anchor, Destruction Spirit, Necklace of undead support, Seal of insane reasoning, Vizkel's Unholy Garments, Skull of Ravagers, and Fiery Magma Stone.
(P.S: You CANT reroll other LGs into these reskins, and the respective reskins are NOT rerollable).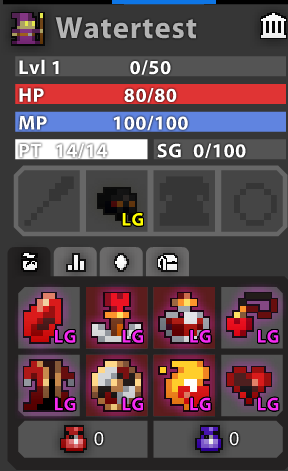 Serenity
Added a QoL animation to Serenity The Ripper with a delay to start the fight.
Malgor
Fixed stacked shots in spratic shotgun phase.
Ultra Drannol
Added stun immunity throughout the entire fight.
Mad Jester
Fixed mad jester breaking during certain phases.
Credits
Summr (Horrific)
TehEnd (Horrific)
Snowdenn
BQ
Sebafra
Waterfiend
Arcanuo