3.9.0 Crimson Temple and Runes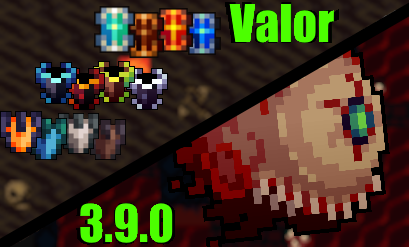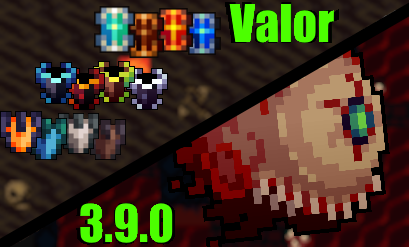 Hey all. I hope everyone is keeping warm as we transition into the middle of Summer. We're running all sorts of community & in-game events during the summer, so make sure to keep an eye on our calendar found here. It's currently Ulgur Saturday as this patch goes live.
In terms of staffing, Summer will be leaving the team to pursue their own projects, as well as focus on real-life endeavors. Make sure to wish them well, if you see them around. They were an awesome contributor. On the upside, we would like to welcome Shmitty back to the team. Formerly a spriter for Valor, he will be returning as a Developer, which is super exciting!
Helper applications are now closed. There is a lot of applicants, and I just want to say it's super cool to see so many people willing & wanting to contribute to the project. We'll be going over all applications this week and will contact applicants shortly after. On to the content!
Balance Changes and Runes Fiesta
We are very happy to finally release runes for all pending ARs. This has been something requested by many people and was long overdue. We hope y'all will be pleased. With this, recently we have been seeing a lot of suggestions regarding wands. So we will also be releasing some balance changes regarding wands and a couple of other items.
Vinelocker
We have gone ahead and reworked its base stats and provided each rune with a unique playstyle, as well as changed sprites.

Helldom Shell
We have gone ahead and reworked its passive as well as base stats. It is new passive called "Punishment of the Damned" will activate a ring of fire and burn enemies close by.

Sor Reactor
We have gone ahead and tweaked Sor reactor's passive and provided each rune with a unique passive to comfort that specific playstyle.

Class Adjustment and Fixes
We have got a few class adjustments and class abilities working properly now. These ability fixes are for Archer, Knight, Ninja and Samurai.
Buffed Mechanic's restoration by 5. (Suggestion: Gomes)
Buffed Templar's base mana to 80. (Suggestion: Papa)
Knight stuns now apply to enemies even if the Player is firing a weapon.
Quiver detection should be vastly improved.
Crimson Temple
The Crimson Temple is the latest addition to the Ascended Family. It is accessible through the Tunnel of Pain.
The Allseeing Horror is a ferocious eyeball that wants nothing more than to mow you down. Carefully position it over heart buffs in the corners, and land your shots while you can. Be careful!
About
ToP Key removed from guild shop.
Added 3 unique drops, one LG, FB & UT. (See below.)
Added the Allseeing Horror & powerup buffs.
Drops Ess & standard Ascended Boss Loot.
Has a special treasure chest mechanic.
Public Challenge Change
We have decided to up the difficulty in public challenges. Serenity and Malgor will now ignore trickster decoys. These two bosses will only target players now for their shots and chasing phases.
Battlepass Changes
Buffed Daily Mission XP from 188 to 200.
Added more Battlepass Missions. (Suggestions: Sana and many others)
Added Title colors to differentiate between each tier. (Daily = Green, Weekly = Blue, Seasonal = Gold)
Added BP Exp Notification after mission completion (displays above character)
You can now remove a battlepass reskin by using a Distransformation stone which can be purchased for fame or gold in the nexus.
Realm Changes
Shortened Abyss Layout.
Reduced Gold droprates from various locations.
Increase scaling on Tridorno (Suggestion: Shmitty)
Added a small global instance scaling for treasure chests. (Suggestion: Oddish)
Trial Shop armor should now be soulbound.
Increased Lophop droprates.
Decreased Blackwood quiver and Carapace droprates.
Slight decrease of FB crates all around.
Increased spawn rates for Angelic Commander and Thunder God.
Shine Changes
You can now reroll into an item from Shard of Ancients Pool.
Restricted some shop and ess crafted items from being shined.
Added some dropped LGs to be used with shines.
/sc or /shinecost now shows how long is left on the boost.
Fabled Crate Rotation
We have updated the Fabled Crate Rotation.
Araki's Saber
Enigma Wand
Mantle of the Conjurer
Spirit of the Heart
Percussion Shield
Helm of the Zol Commander
Bloodwell
Skull of Blizzard
Doomgrazer
False Execution
Anchor of Disruption
Titan's Gem
Reinforced Prism
Soundpiercer Shuriken
Toxin of the Vicious
Miscellaneous Changes
Updated Chat Filters.
Guild Rewards should be re-enabled.
Added pets for Sweet, Waterfiend, and Zipzar.
Fixed Daily Trial Contract description.
Added the craft work for New Elemental Sor LG Wand and removed gala crafting recipe.
Lightsaber Fire enchant crafting recipe fixed.
Removed Account Ids on Minimap players' tooltip.
Fixed Container Viewers.
Removed space in Lootbox and BattlePass UIs
Fixed so sometimes char's portrait on Player Menu was larger
Fixed ability and weapon tracker slot types.
Fixed Larry dungeon miniboss % display (Suggestion: Marc)
Vault Maps are now re-usable and soulbound. (Suggestion: Kompo)
Updated Onrane, Ulti and Reg Ocache, Gold and Sor frag cache descriptions + Sprites (Suggestion: Sana/Questy, Gomes, MaxYourSandals)
Added descriptions to stat potions, greater and vials. (Suggestion: Abraxus)
Updated Titan Token sprite. (Suggestion: MaxYourSandals)
Updated Aspect of Baast Description. (Suggestion: Deviser)
Centered Item on Loot banner popup. (Thanks Seb)
Added Item fade in on Loot Banner popup. (Suggestion: Shad)
Updated alot of Lg Effect Descriptions (Suggestion: Klups)
Added Blademaster Stance Icons. (Suggestion: Monkey)
Credits
Avatar
BQ (Crimson Temple)
Deviser
Destiny
Dog
Ohwy
Sebafra (So many fixes..)
Shmitty
Skullz (Fabled crates, balancing, xmls)
Slendergo
Arcanuo
Snowden
Waterfiend (A lot of xmls & rune work)
Zipzar