3.5.0 Saint Patricks' Update
Hello everyone!
This is the first March update and will be focused mainly around our St. Patricks Event, as well as the customary rollout of bug fixes and balancing. This patch introduces Gravachrome Runes, AR Orb changes, two Ele Sor Crafts & much more.
There will be a Fame Crate dropping on the 22nd. It will contain 10-15 emotes. This box will be spinnable via Character death Fame.
Staff promotions
I'd like to congratulate Waterfiend & Sweet on their promotions from Helper to JrMod. If you see them in-game or in chat, make sure to congratulate them!
Saint Patricks' Event
With Saint Patricks' happening, we have decided to bring back the Saint Patrick's event! This event is a combination of the Relic mixup event and our previous Saint Patricks' Event last year. With a ton of reskins now dropping and a chance to gain special loot from the Leprechaun as well as a Pot of Gold that will drop from major realm bosses/enemies.
Similar to Candy Gnome, the Wandering Leprechaun will be visiting the realm and will drop an Upgraded Pot of Gold!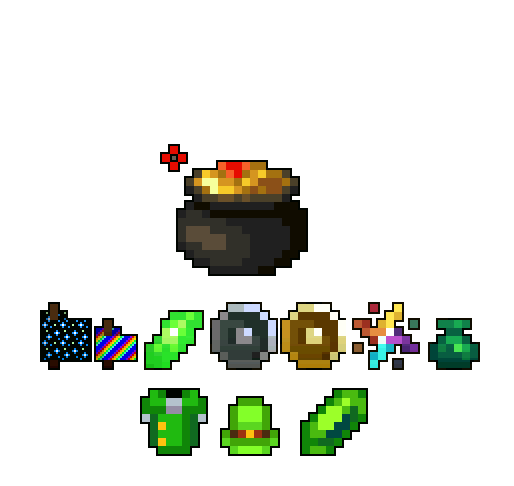 The list of realm bosses/enemies that drop a Pot of Gold are Zol pirate, Yazanahar, Ulgur, Serenity, Malgor, Oryx the mad God 3, Larry, Alien king, Merganus, Drannol, Granithia, Aldragine, The Abomination, Shatters 1st, and 3rd boss.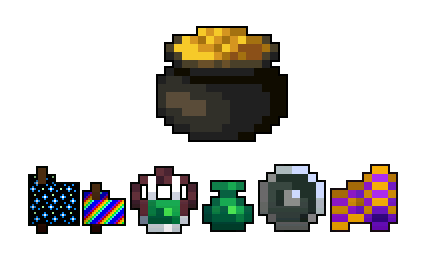 Various Item reskins!
Below you will see all the reskins we have added for the event. They will be dropping from bosses where you would normally get their original versions.
AR Orb Rework/ Nerfs
We have gone ahead and reworked AR Orb to give it a newer playstyle and nerf the item as well. Each enchantment provides a unique aspect of gameplay that we think you might find interesting.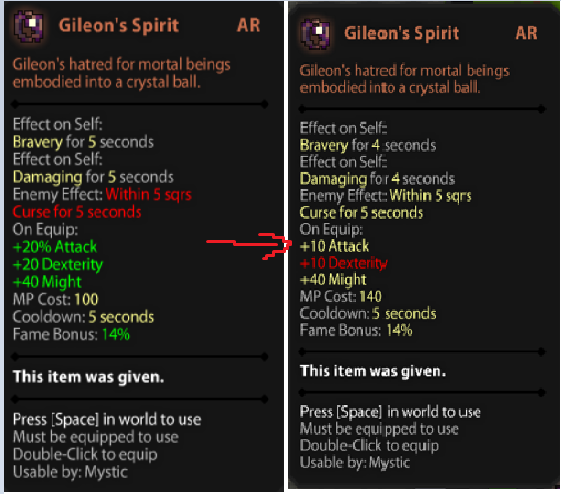 Gravachrome Runes
It is finally here! We have added enchanted versions of Gravachrome with each enchantment granting a new playstyle and offering more than just a fortune swap.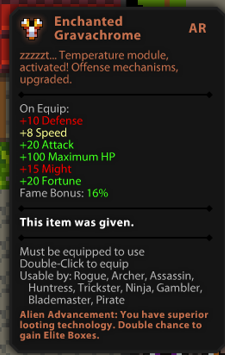 Elemental Sor Crafts
With the lack of elemental sor crafts, we have added two new crafts and given them to underused classes. Hopefully, this will help bring more players into playing the classes. We have added a lance and a charm. Absolute Crescendo and Malgor's Invigorating Charm respectively.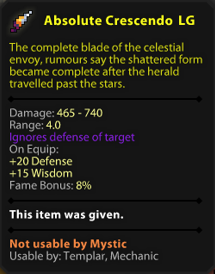 Miscellaneous Changes
Fixed AR Lance not working with raid trackers.
Added staff pets.
Reduced The Eye and Malignant Slasher drop rate slightly.
Armageddon Turret now drops from Shrek. (Speedy removed and dmg buffed)
Guild rewards are disabled.
Changed Abomination Minion behavior slightly (shoots more)
Replaced all respective drops with their reskins for the event.
Wandering Leprechaun will be spawning in the realm which drops an upgraded version of A Pot of Gold, with chances at special reskins and other extras!
Added A Pot of Gold chest to realm bosses/enemies.
-Added /enclave to raid announcements.
Fixed a bugged T7 that was still dropping.
Added Leprechaun Hat as a drop from O3.
Titan should no longer be breaking.
Fallen should be back to requiring both bosses to be killed.
Pets
Added Fat Penguin Pet. (600 Kantos.) (Credit TehEnd)
Added Mini Drannol. (750 Kantos.) (Credit ZipZar)
Added Mini Abomination. (750 Kantos.) (Credit ZipZar)
Credits:
Snowden
Summr
BQ
Tehend
Skullz
Dog
Arcanuo
Waterfiend
Deviser
ZipZar