4.6.0 XMAS Event & Templar Rework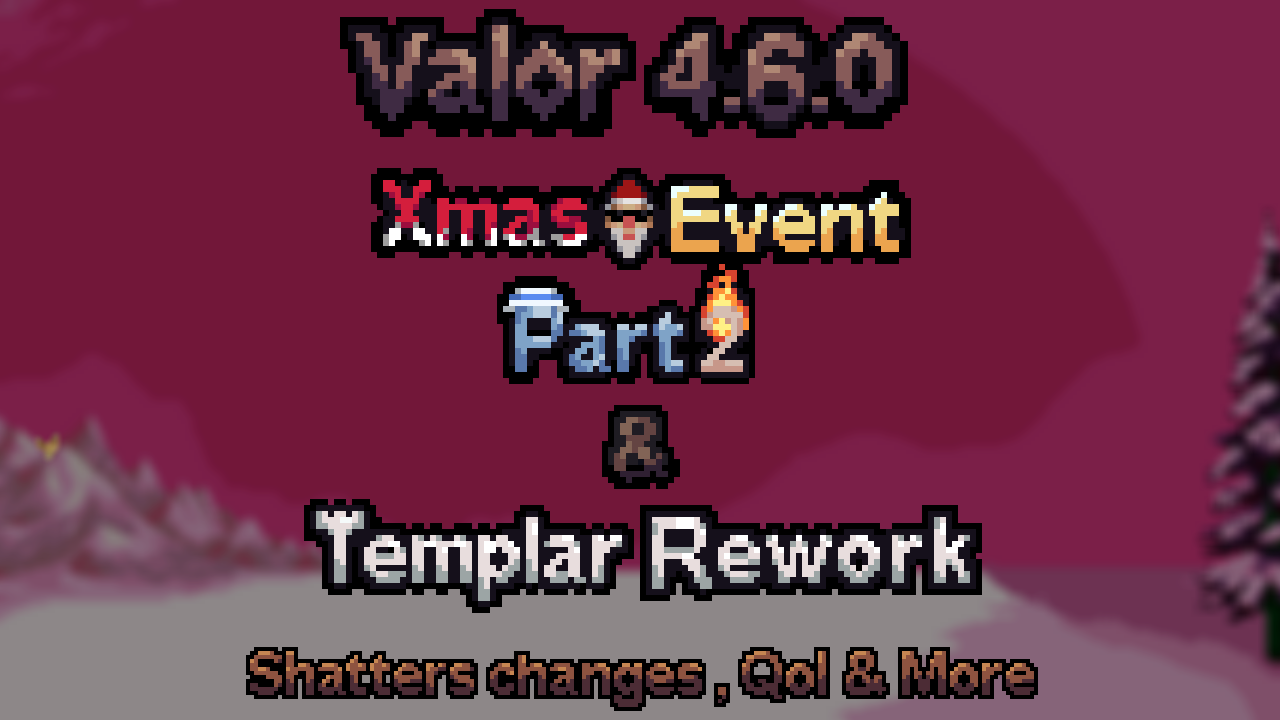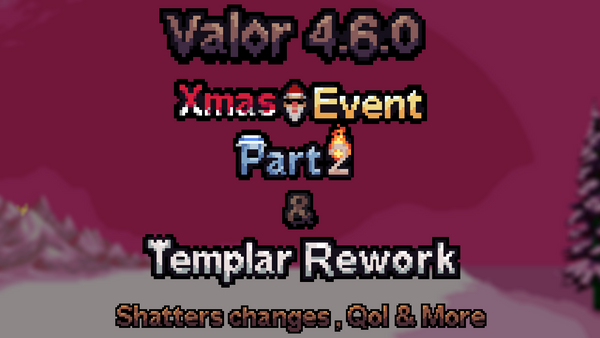 Hey, we are happy to bring our mid month update as promised. With this will be the beginning of our xmas event, and long awaited Templar rework of which we are happy to bring to everyone. As well as some community suggested changes and fixes. This is the third Holiday Season we've celebrated together now, and we'd just like to say thanks for everything. The Community has always been super supportive, and we're looking towards an awesome 2023.

The Discord clean up, as well as other ways to make Valor more "new player friendly" and a little less daunting are some of our Moderation Goals for early 2023.
Staff Promotion & Changes.
We are pleased to announce the promotion for Waterfiend to Sr Mod. This is IWBU's first major contribution, and we're super happy to be getting him more involved. If you see him around, make sure to say Hi. Unforunately due to real life obligations, Bruhh will be departing the team.

XMAS Event
Starting off the event from today, 19th and ending on the 31st. Our festivities are as follows:
December 19-31: Boosted Alert Rates
December 22-23: 100% Toxic Troll
December 24-25: 100% Bergelmir
December 26-27: 100% Kraken
December 28-29: 100% Anubis
December 30-31: 100% Terradius
December 19/22/25/28/31: Guaranteed Ulgur
December: 20/23/26/29: Guaranteed Serenity
December: 21/24/27/30: Guaranteed Malgor

This year, Snow Golems and present collection will return. There will be three variety of present, joyful(1), cheerful(3) and elusive(15). Collect 1500-2500 presents as a community, and decorate our XMAS Tree. Prepare yourselves for a fight with Snowmiser, Heatmiser and Bad Santa himself. Rewards such as all the reskins currently dropping including a reskin anatis and quack staves.
12 Days Of Xmas
For the next twelve days, check back everyday for a new mission in the "Special Tab" of the Battle Pass. Completing these missions will reward an in-game reward, and a premium reward.
Each day a new quest will unlock, so make sure to check back. Once a quest unlocks, they will be available until the 31st.
The required present cap may be adjusted if we feel it's too low or too high, and is something we can do without restarting the server.
Templar Rework
We were aware of all the bugs from our first testing session for the templar rework. Took in some feedback and made some changes, but we are pleased to finally bring another class rework. Especially to a class that has become underplayed over the years. This new addition of a charging mechanic, was to bring out some more utility, support and damage into the mix. We are looking forward to your thoughts and we welcome all constructive feedback. Your charge dmg will scale by speed and vitality, and will gain an invulnerable while charging as well as a 2s invincible upon reaching the banner.
Note: Tooltips with the dmg reduction are old, its invuln instead now.
Shatters Changes
Based on a highly upvoted suggestion and community feedback, we have made the following changes to Shatters:
Updated shatters map
Increased HP scaling per player on:  Bridge Sentinel, Mage, Birds, King, Royal Guardians, Orbs
Loot now drops from bosses & Disabled chest spawning
Adjusted 2nd bridge behavior. Bridge now spawns after boss is dead instead.
Yellow Bridge Obelisk now suicide after Bridge Sentinel is dead.
Adjusted bridge to King, only the bridge closes now. Fighting "Room" is back to original.
Adjusted Kings shooting range during last phase. King now permanently shoots, no more leeching.
Adjusted Bridge Obelisk Damage to be constant.
Fixed Stacked Shots from Bridge Obelisk and they are also now Immune to Daze/Stun/Stasis
Fabled Crate Rotation
Bow of Ruin
Robe of Dark Desire
Jacket of True Heavens
Twisted Cloak
Realitytaker Orb
Blade of the Mad God
Merit of Rebellion
Spirit of the Heart
Beastly Dice
Zol Axe
Suspicious Looking Skull
Ulgur's Spectral Quiver
Sword of Dark Retribution
Buff Hide
Miscellaneous QoLs and Changes
Fixed Missing projectiles on Colossal Candy Cane Cleaver, and Candy Cane Cleaver
Fixed premium slot 62 having a broken texture, now rogue snowman unlocker
Swapped lvl 65 to reskin orb for normal pass
Fixed thunder and lightning reskin not dropping
Added Titan Vault Map to Drannol, Ultra Drannol and Ultra Revil
Fixed "Enter with Stats" Missions
fix typo in /psize (the most minor fix ever!)
Removed tree from Ice and Fire Vault Map gift chest area (player suggested)
Fixed Vorpal Sword drop from Thessal
Added HP Scaling to Aldragine Ultra Clones & Tripled the HP Scaling of Aldragine and Aldragine Ultra.
Fixed Brutal Fiend Foothold's Projectile
Added new option to disable players' entities
Fix broken slot 33 in bp - now bp rewards
Decrease bloodstone rate slightly, Reduce a few shard rates slightly, Slightly increase cursed wand rate, Slightly buffed orbit drop rate.
disable ally effects & disable immune text now true by default
Cem bosses now drop insignias and Shines
Fixed Dodge Effect
Fixed Therani Set Passive
Added Cyber Charm & Quantum Oscillator to Cyberlord
Credits
Arcanuo (Xmas Event, Misc Bug Fixes)
BQ (Sprites)
Deathmod (XMAS Event)
Iwanabeu (Templar Rework)
Kayood (Misc Bug Fixes)
Sebafra (Templar Rework, Xmas BP, Misc Bug Fixes)
Skullz (Shatts and Templar Rework)
Snowden (XMAS boss fight)
Waterfiend (Templar Rework)
Zipzar (Sprites & Blogpost Banner)