October Updates & Staff Changes
Hi all. This post contains a variety of changes on a variety of subjects.
Throughout the month, various Halloween tweaks will go live. An updated premium player card is currently live, and a spooky nexus, as well as new spooky home decorations, are soon to follow.
This Halloween card is live for all premium players, and much more is coming in the second half of October.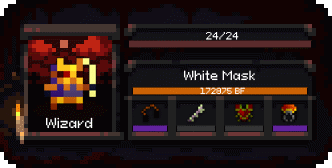 At the end of October, we will be releasing a feedback form for the various events run in the past month and a half, such as AR Mixup, the Dungeon Event & the spawn event.
Account Security
Throughout the months of September & October, we have been monitoring and defending against account crackers. We are continuing to do our best to safeguard the community, but urge users to make sure they are using unique login details with 2FA enabled.
Suggestion System & Discord Changes
In 4.4.0, we will be swapping our suggestion system to Discord's built-in forum threads. We're super excited about this, as it should bring a level of organization to suggestions.  

The old suggestion thread and discussion channel will remain for upwards of six months, in order not to lose any old suggestions, but will remain locked to new messages, and we'll be migrating over to the built-in forum system.
Discord Improvements
ABlindSniper is rolling out an update to our policies and discord messages across the discord. We are swapping staff-posted messages to be monitored by the bots, and also taking the time to organize.
There is now an Elite Role that can be selected from #role-selection. This will allow you to see #elite-trading.
Wiki
The Wiki continues to see improvements. Rina has been added as a Community Editor to assist Deathmod.
If you are interested in helping with the wiki, check out the guide here.
Staffing Changes
We have a lot of great promotions, punctured by a demotion and a departure.
Sebafra has been officially promoted to Administrator. He's been a major part of our team for years now, and this is well deserved. Make sure to congratulate him!
Congratulations to Xannyy and Deathmod on their promotion to Full Moderator Status. They have been great additions as JrMods, and we're positive that will continue as Moderators. Deathmod will continue to head improve the Valor Wiki, and if you've opened a ticket recently, chances are Xannyy helped you with it.
Comfrog will be coming out of retirement and returning to the Moderator Team. We're all excited to welcome him back. He's a former Head Moderator of Valor, and will be a great re-addition to the team. If you remember him, make sure to welcome him back. He'll be returning as a normal Moderator at this time.
Lumpian will be stepping down from the team to pursue other interests. They were an integral part of some amazing pieces of content such as Phalgomor and Ashen Purgatory. We wish them the best and hope they go on to accomplish amazing things. We've included some words, "It is with a heavy heart that I come to realize that my future as a creative and a contributor to the Culture is no longer in line with the future of Valor.
My time with the team has taught me humbling lessons and made realistic my ambitions. I've made things that I've truly adored, and I'm touched that I could be part of the journey of this project.
Valor is the last flame in the dark for an era of realm that seems all but a whisper. It's my hope that it burn on in a way that matters, in time.
GGs, and take care." ~ Lumpian
Destiny has been removed from the Staff Team due to an incident. It was a minor issue, but we hold Staff to the same standards we would hold players, if not greater. This does not subtract from any of the great work Destiny did over the two years, and he helped us shape Valor into it what it is today.
We've added three new Developers to the team, IWannabeu, Kayood & Bruhh, who are all active players. They've been on the development team internally for a while now, and you should start seeing their contributions in patch notes.
Due to all these notices, we've been waiting on contacting the new helpers. They will be contacted and announced this week. Thank you for your patience.
Website & Form Change
We've made a few changes to the website. The Ban Appeal form is now available in the navigation bar and is now permanently located here.
This form now allows you to appeal either discord or in-game bans. We have made backend changes in order to process these appeals much faster.
The Staff Page has been updated to reflect the Staff Changes above.